The NFT market is facing a sharp drop in trading volume, according to data from firm NonFungible.com.
The NFT market is in the throes of massive churn due to risk aversion, according to data from firm NonFungible.com.
As a reminder, an NFT ("Non Fungible Token" or non-fungible token) is a digital title, issued by a blockchain (mainly Ethereum), and associated with a digital asset (photo, video, etc.). Each NFT is unique and cannot be reproduced. NFTs are used in art, the luxury sector or for trading cards in sports.
A record year 2021
Just like the cryptocurrencies on which NFTs depend in one way or another, we end up with a new asset class, with a new machinery, victim of very traditional market movements. We come back to fundamentals: inflation, the change in gear of monetary policies, free money is over, so who is ready to invest in title deeds of images of monkeys in disguise, if we magnify the trait?
This can be read in the figures: the year 2021 will have marked an explosion in the sale of these assets, with an amount of transactions of 17.6 billion dollars of so-called "qualified" NFTs (which correspond to transactions that are qualified or verified according to NonFongible.com), making the fortune of many investors, even becoming the retirement or pre-retirement kitty of confirmed rap stars, in particular Ice Cube and Snoop Dogg.
But the year 2022 faces a loss of momentum in this trend. On the week of January 24, we were still on a peak of weekly NFT sales of around 1 billion dollars.
Figures at their lowest end of May
But since then, the market has been going through a difficult period, apart from a peak on April 25 with 1.2 billion dollars traded and 412,000 sales.
For example, for the week of May 23, NonFongible.com lists the lowest figures for the NFT market for the year 2022, with 165 million dollars traded and a sales volume which drops to 175,000 transactions, according to this graph transmitted to BFM Crypto by Gauthier Zuppinger, COO (Chief Operating Officer) of NonFungible.com.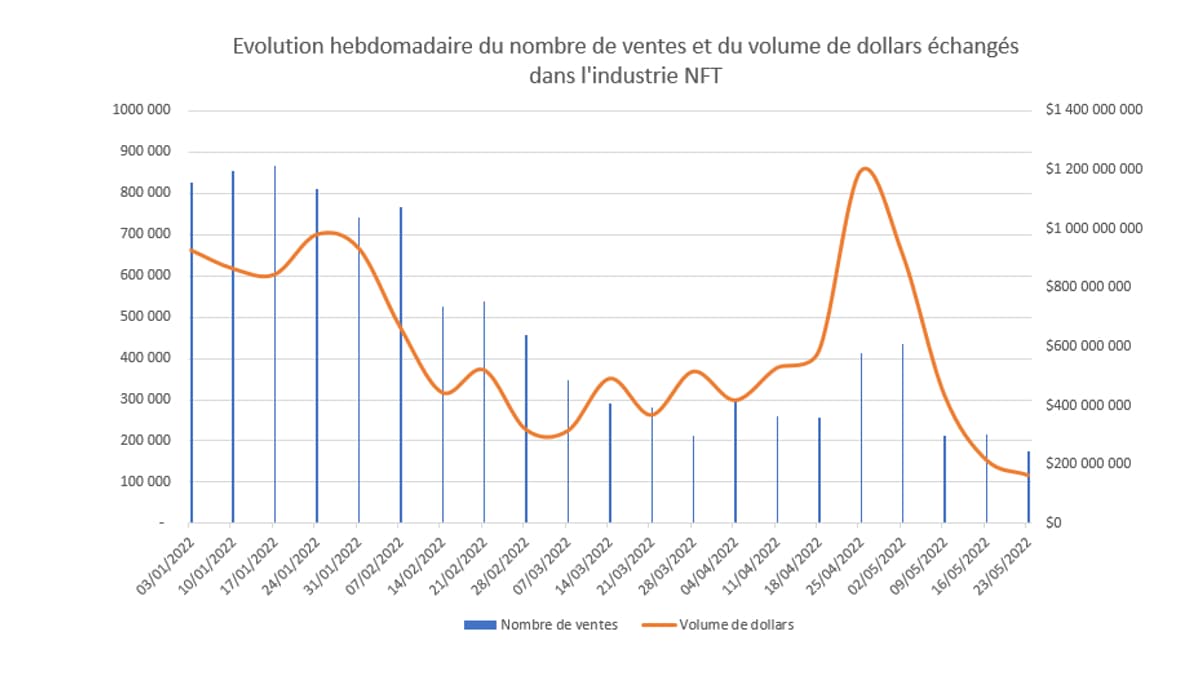 The reason is very simple: there is a total sweep of risky assets. And what could be more risky than these certificates of which few users know the real ins and outs in truth? Second extremely negative factor: the sharp drop in the cryptocurrency ether, since the vast majority of these NFTs are denominated in this cryptocurrency and worked on the Ethereum blockchain.
It is therefore complicated to find a fair value for assets whose reference currency has lost 47% since the beginning of the year, due to the strong shocks suffered on the cryptocurrency market.
Antoine Larigaudrie edited by PA