With more than 85 million subscribers, Elon Musk has an unparalleled resonance on the social network. If his tweets can sometimes make you smile, some trigger controversy.
With his very recent purchase of Twitter, Elon Musk is not venturing into uncharted territory. The billionaire, who combines caps, is used to chaining controversies on the social network, where he has nearly 85 million subscribers.
His tweets are, for the most part, humorous in nature, although often provocative. The businessman does not seem to care about the recurring controversies he triggers, a showcase that reveals his very divisive personality.
His opinions on Twitter
The most telling tweet? In 2017, Elon Musk tweeted "I love Twitter", then, in a second, "How much does it cost?". Almost five years before the businessman made the official acquisition of the social network, he already seemed to be thinking about it – difficult, however, to calculate the seriousness of his tweet at the time.
"I hope even my worst critics stay on Twitter because that's what free speech is all about," Musk tweeted on April 25. The latter actually wanted to be a standard bearer for freedom of expression with his purchase of the social network.
The controversies
"The woke ideology virus is making Netflix unwatchable," Elon Musk wrote on April 20.
This tweet followed, on April 20, the announcement of the fall of Netflix on the stock market. The businessman believes that this fall is due to "woke ideology", a concept referring to being awake on social issues, often attributed to a younger population, and criticized by conservative circles. Elon Musk's stance on this has been widely criticized.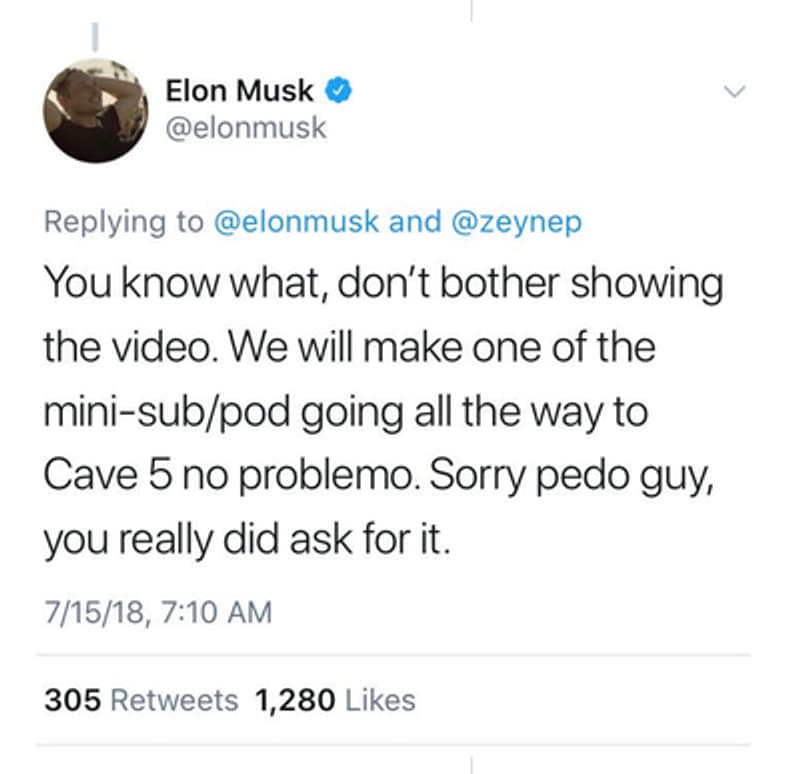 In July 2018, it's one slippage too many. A young team of Thai footballers and their coach find themselves stuck in a cave, trapped by the waters. Elon Musk then offers to send them a mini submarine, on which he announces to carry out tests.
A British speleologist, accustomed to the territory, then denounces in a television interview an unwelcome publicity stunt, proposing to Musk to "put his submarine where it hurts".
To which, annoyed, the billionaire will respond on Twitter "sorry, pedophile guy, you looked for it", an insult on which he will not base any evidence. He will quickly delete his tweet. The verdict of the lawsuit subsequently brought by the speleologist will prove Musk right.
In March 2020, in a context where the world is becoming aware of the coronavirus pandemic and is about to be confined, Elon Musk has, at the time, around 31 million subscribers.
"Panic over coronavirus is dumb," he wrote simply. A tweet that will be shared more than a million and a half times, triggering a majority of stunned reactions as deaths from Covid-19 begin to accumulate around the world.
Tackles to his competitors
Musk attacked Bill Gates on April 23, affixing his photo next to a "pregnant man" emoji, accompanied by the fairly explicit phrase "if you need to lose an erection quickly".
A publication that he tries to justify in a second tweet: "I stop making fun of Bill Gates who wants to bypass Tesla when he claims to act for climate change".
After being named the richest man in the world, Musk ironically awarded a silver medal to his longtime competitor, Jeff Bezos. The latter praised the merits of Amazon in a tweet.
The influence on the stock price
The billionaire is also known for regularly turning the stock of his company, Tesla, upside down with the simple power of a tweet. In early November 2021, he surveys his subscribers:
"There is a lot of talk lately about unrealized gains as a means of tax evasion. So I propose to sell 10% of my Tesla shares. What do you think?", wrote the CEO on Twitter.
Following this tweet, Tesla shares fell 7.3% on the stock market, reaching their lowest price in eight months. A few days before, an exchange by tweets interposed with the Hertz rental company had had the same effect.
It's hard to link Twitter and Musk without tracing the latter's history with cryptocurrency. Same story as for Tesla shares, the billionaire has often made rain and shine on the course of several cryptocurrencies, and in particular DogeCoin. After touting this cryptocurrency, initially parody, as "the people's crypto", Elon Musk made its price soar.
The announcement of the purchase of Twitter by the businessman had an immediate effect on DogeCoin, which jumped 29% on April 26.
Finally, a textbook case for lovers of the stock market. While WhatsApp was controversial with terms of use that made users fear for their privacy, Musk invited Internet users to use Signal, another secure messaging service.
Unfortunately, the latter being a non-profit association, and therefore not listed on the stock exchange, investors have invested heavily in the wrong company, despite themselves. It is therefore a Texas company, Signal Advance, which was valued from 55 to 660 million dollars in one day, by mistake.